Poseidon

Name:

Poseidon

Designated Number:

N/A

Origin:

Unknown

Species:

Cyborg

Role:

Sea-dwelling Mythos Cyborg

Abilities

Seiyuu

Kiyoyuki Yanada

English VA
Poseidon is a member of Dr. Gaia's Mythos Cyborg team, appearing in the Mythos arc in Cyborg 009: The Cyborg Soldier. He is a powerful sea being who will destroy anyone in his underwater domain.
Appearance
Edit
Poseidon has the appearance of a towering, orange-skinned and half-human sea creature, modeled after the very Greek God.
Personality
Edit
Nothing is known about Poseidon's past, other than that he was one of Dr. Gaia's numerous Greek God-themed cyborgs. He was brainwashed to believe that he was the actual God Poseidon, and that his mission was to wipe out humanity.
Abilities
Edit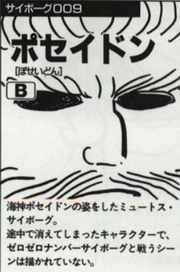 While Poseidon did not play a significant role in the manga version of the arc, he can briefly be seen in one panel at the beginning. It is possible that Ishinomori may have intended him to play more of a role later on, but due to "Mythos" being cut short, this did not happen. His larger role in the 2001 anime could be seen as an homage and recycling of the planned role he was to have in the never-produced 1980 anime adaptation of the arc. The fact that Poseidon was also prominently used in the Mega-CD game as one of the minor level bosses also points to the possibility of him initially being meant to have more of an appearance.