The
Ishinomori Manga Museum
is a museum in Ishinomaki,Japan in the Miyagi prefecture that was founded in 2001.
It is a museum dedicated to the manga artist Shotaro Ishinomori and features exhibits based on his most popular works.
2011 Earthquake and Remodeling
Edit
After the March 2011 Tokuhou earthquake and tsunami, the museum was damaged with many of the displays wrecked from the tidal waves. However, the building itself was still structurally intact and some of the statues were still standing among the devastation. The most iconic image from the disaster being the Kamen Rider and Akaranger statues still standing intact after all the wreckage, inspiring hope to those who survived the ordeal.
Afterward the city of Ishinomaki, fans in Japan and around the world gave their moral support to repair it. The museum was fully repaired on November 17, 2012 with newly refurbished exhibits and displays and had a reopening event on March 23, 2013. The repairs cost 146 million yen and was all donated by fans.
Notable Exhibits
Edit
Cyborg 009 Room
Edit
The second floor exhibit has a room dedicated to Cyborg 009 with statues of the characters displaying information about the manga series, its characters and clips from the animes and films on video displays. There is also a special display for the American graphic novel.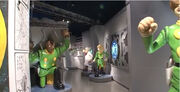 Kamen Rider Room
Edit
One of the most popular exhibits is the Kamen Rider Room, based on the long running TV franchise created by the cartoonist. One display features show accurate replicas of all the Kamen Riders masks up to the most recent TV series with a statue of Kamen Rider 1 in the center. The video displays in the Mask room have the TV themes and movie footage of each series playing as well as footage from each show in chronological order. There is also a replica of the Cyclone, Kamen Rider 1's motorcycle, which kids can ride on to play a custom version of the PS1 video game Kamen Rider: The Bike Race.
Sea Jetter Kaito Exhibit
Edit
Sea Jetter Kaito is the local hero of the city of Ishinomaki, who was based on an unused concept from Ishinomori's drawings. The display features the fictional story of Kaito, a photo of the concept drawing he was based on, his enemies and a movie theater where patrons can watch
Sea Jetter Kaito: The Movie
, made by the production staff behind the Kamen Rider series exclusively for the museum. Outside, a water stage show performance of Sea Jetter Kaito can be viewed during the spring and summer months.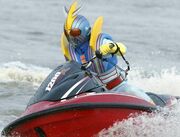 The Life of Ishinomori
Edit
An exhibit which gives tourists details about the life of Shotaro Ishinomori and his career in the manga industry.
External links
Edit