"2015. The battles of the 00-numbered cyborgs will continue."
Cyborg 009 vs. Devilman (サイボーグ009 vs デビルマン, Cyborg 009 vs. Devilman?) is a 2015 OVA crossover and a joint production between Ishimori Pro and Dynamic Pro. The animated feature, compiled from three OVA episodes, combines the characters from Shotaro Ishinomori's Cyborg 009 franchise with Go Nagai's Devilman franchise.
Devised as a commemoration of the Cyborg 009 franchise's then-passed 50th anniversary (2014), as well as being an idea that was long-conceived by Go Nagai as a collaboration with Shotaro Ishinomori, this project saw the return of the director Jun Kawagoe, who had previously handled the 2001 series.
The animation of the OVAs was handled by Actas and Bee Media, and its home video release was handled by Toei Video.
Each OVA episode runs 30 minutes, while the event screening ran 80 minutes in total, as 10 minutes of episode 3 were excised for time constraints. The full version is included on the home video releases. On April 1st, 2016, the OVA premiered on Netflix and received a full English dub.[1]
In structuring the OVA mini-series, it was decided to have it take place before the final arc of Devilman involving Armageddon and the reveal of Satan, as well as before the Underground Empire of Yomi arc of Cyborg 009, which would have the final battle against Black Ghost. Thus, the timing of this meeting is said to be "impossible" if applied to the original canon [2], and so the OVAs are their own alternate universe where the events of both manga occur alongside each other, with some differences.
The Mythos Cyborgs and Jinmen stories were chosen to be utilized for the prologue and opener to the main plotline, to showcase and introduce the abilities and personalities of the cast. This results in both stories being truncated and abridged, only meant to be as introductions and homages to the original source manga.
The rest of the OVA, and its main plot, is an entirely-original story involving the 00 cyborgs and the Devilman cast crossing paths as a Black Ghost scientist by the name of Dr. Adams releases his "High-Teen Number" cyborgs as a threat, along with the appearance of mysterious demons in Tokyo.
This collaboration between Ishimori Pro and Dynamic Pro was noted to be "risky" by the involved parties, yet they saw it necessary as a way of trying something new with the properties. There was also a listed hope that after the production of this OVA, that "Devilman and 009 will probably each have a new work after this."
Characters
Edit
Cyborg 009
Edit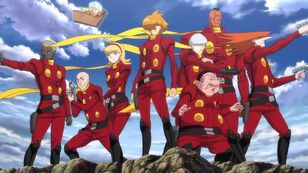 Non-speaking cameos include appearances by:
Woman Esper
Minotaur
Atlas
Poseidon
Achilles
Hippo Man ("Mythos Cyborg" line-up in episode 2)
0010 Plus and Minus, 0011, 0012, and 0013 (Black Ghost files and narration in episode 2)
Dr. Uranus (seen in flashbacks, Black Ghost files)
Dr. Gaia (flashbacks, Black Ghost files)
Dr. Whisky (flashbacks, Black Ghost files)
Dr. Dressler (flashbacks, Black Ghost files)
Skull (seen in flashbacks and narration on Black Ghost; he can also be seen towards the end of the third OVA episode when 001 has premonitions of Generalissimo)
Van Vogt (seen through narration on Black Ghost)
Hilda (as an illusion)
Eva Klein (character referenced from the Cyborg 009 manga's one-shot chapter "Glacier of Love"; portrayed as one of Lilith's illusions)
Rieko Ogata (character referenced from the Cyborg 009 manga's one-shot chapter "Metamorphosis"; portrayed as one of Lilith's illusions)
Psycho Jenny (opening credits and towards the end of the OVA's third episode)
Sachiko (as a face on Jinmen's shell)
Dosu-Roku
Ken
Lilith's demon slaves
Episode 1
Edit
On Magma Island a long and devastating battle ensues between the 00-unit cyborgs and The Mythos Cyborgs. Several of the Mythos Cyborgs have been defeated, and or killed. 009 has just defeated the panther-headed Achilles and is immediately dragged into another fight versus Apollo, the most powerful of the Mythos Cyborgs and bent on complete world domination. At first, the would-be god appears to outmaneuver 009 with his pyrokinesis and super-speed, but 009 proves otherwise by beating Apollo into the ground. Their fight ends on top the island's volcano, wherein Helena, Apollo's sister, intervenes by jumping in front of her brother. Unable to save his sister from his own flames the two siblings fall into the erupting volcano, thus ending the threat poses by their group. As the volcano's lava consumes the entire island the 00-unit cyborgs manage to escape mostly unscathed.
At that very same time another battle is taking place in Japan. Adolescent Fudo Akira is searching a play-ground late at night for his friend, Sachiko. Much to his shock and horror, Akira finds the young woman, along with several other humans, merged with the shell of the demon turtle, Jinmen.
Episode 2
Edit
Episode 3
Edit
Production Staff
Edit
Director: Jun Kawagoe
Screenplay and Composition: Tadashi Hayakawa[3]
Character Design and Animation Direction: Takeshi Itou [4]
Demon Design: Sai Yamane
Art Director: Nobuto Sakamoto
Director of Photography: Yasuhiko Abe
Sound Director: Tooru Nakano
Composers: Yoshichika Kuriyama, Shiho Terada, Atsushi Yokozeki
Music Production: Lantis
Animation Production: Bee Media, Actas
Distributor: T-Joy
Advertisement: Pazzy Entertainment
Publicity: Brownie
Japanese Voice Cast
Edit
Akira Fudo/Devilman: Shintarō Asanuma[5]
Joe Shimamura/009: Jun Fukuyama
Ivan Whisky/001: Haruka Shiraishi
Jet Link/002: Tomoaki Maeno
Francoise Arnoul/003: M.A.O (Mao Ichimichi)
Albert Heinrich/004: Hiroki Touchi
Geronimo Junior/005: Tsuyoshi Koyama
Chang Changku/006: Yuu Mizushima
Great Britain/007: Hozumi Goda
Pyunma/008: Ayumu Okamura
Dr. Isaac Gilmore: Shigeru Ushiyama
Miki Makimura: Saori Hayami
Ryo Asuka: Satoshi Hino
Edward/0014: Yoshimasa Hosoya
Eva Maria Parallels/0015: Minako Kotobuki
Abel/0017: Mutsumi Tamura
Seth/0018/Azazel, Atun: Hiro Shimono
Dr. Adams: Fumihiko Tachiki
Lilith: Mie Sonozaki
Apollo: Akira Ishida
Helena: Youko Honna
Jinmen: Houchu Ohtsuka
Sacchan: Atsuko Enomoto
Pazuzu is voiced, but the actor is not credited in the brochures. This is also the case for other minor and briefly-appearing characters such as Dosu-Roku and Ken, and nameless civilians seen in the plot.
English Voice Cast
Edit
Akira Fudo/Devilman: Bryce Papenbrook
Joe Shimamura/009: Johnny Yong Bosch
Ivan Whisky/001: Christine Marie Cabanos
Jet Link/002: Spike Spencer
Francoise Arnoul/003: Stephanie Sheh
Albert Heinrich/004: Michael Sinterniklaas
Geronimo Junior/005: Keith Silverstein
Chang Changku/006: Joe Ochman
Great Britain/007: Tony Azzolino
Pyunma/008: Steve Staley
Dr. Isaac Gilmore: Dave Mallow
Miki Makimura: Cristina Valenzuela
Ryo Asuka: Chris Smith
Edward/0014: Kyle McCarley
Eva/0015: Lindsay Torrance
Abel/0017: Dorothy Elias-Fahn
Seth/0018: Griffin Burns
Dr. Adams: Michael McConnohie
Lilith: Wendee Lee
Apollo: Doug Erholtz
Helena: Christine Marie Cabanos
Jinmen: Jamieson Price
Sacchan: Erin Fitzgerald
Theme Music
Edit
"Devil Mind ~Ai wa Chikara~" (DEVIL MIND~愛は力~)" by JAM Project
Cyborg 009 vs. Devilman: Official Soundtrack Listing
Edit
1: Avant Title 1
2: Avant Title 2
3: Avant Title 3
4: Avant Title 4
5: Everyday Soldiers
6: Warning: "A Devil has come"
7: Strife
8: Exchange Student
9: Information Gathering
10: In the Club
11: Devil!
12: Start of the Hunt
13: Woofer Group
14: Lilith's Possession
15: Face to Face
16: Pazuzu
17: Devilman vs. Pazuzu
18: Devilman vs. Joe
19: High-Teen Numbers
20: High-Teen Numbers vs. Prototype
21: Mutation
22: Human Enemy
23: Multinational Enterprise
24: Lunch Break
25: Miki and Eva
26: A Demon Appears
27: Dr. Adams and Edward
28: Advanced Custom
29: The Dolphin's Departure
30: Illusion Attack
31: Desperate Bird Strike
32: Fuselage Landing
33: Soldiers Standing
34: Insanity
35: Soldiers vs. Lilith
36: Contract
37: The End of Lilith
38: Seth's Change
39: Atun's Awakening
40: Verdict
41: Devilman vs. Devil Seth
42: Technique
43: Sorrow of Eva
44: Battle
45: Tactics
46: The End of the High-Teen Numbers
47: 009.Devilman vs. Azazel
48: Eva's Death
49: Last Battle: The End of Atun
50: Denouement
51: Warning: "The Demon God is Coming!"
Production
Edit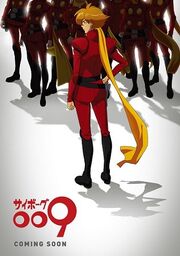 A new anime adaptation of Cyborg 009 was first announced by Ishimori Productions on March 31st, 2015[6]. Though the filename on the website listed it as "newseries_009", it was later clarified to be a theatrical event screening scheduled for fall 2015 [7]. On June 18, 2015, it was then announced that the film's full title was Cyborg 009 vs. Devilman[8], and was also related to the new Devilman anime announcement. It was also further clarified to be a three-part OVA series that would be screened theatrically.
The compilation film was announced for a two-week limited screening from October 17th to the 30th, with the home video release of the OVAs to follow on November 11th. Fans who had gotten to see the screening had gotten to take home early releases of the collector's edition Blu-Ray, as part of the many merchandise incentives they could pay for at the theater.
Aside from the Blu-Ray release of the OVAs, including the collector's edition, singular DVD releases of each of the three episodes were also produced for a much cheaper buying price.
Light Novel: "Cyborg 009 vs. Devilman: Treacheries: The Traitors"
Edit
A light novel adaptation of the OVA was released on September 24, in the lead-up to the theatrical screening. It is written by Tadashi Hayakawa, who wrote the OVA storyline, and serves as a prequel. The novel, much like the OVA, operates on the idea of both series' events taking place in the same universe.
The Cyborg 009 portion of the novel retells parts of the early manga, up to the start of the "Mythos Cyborgs", leaving off where the OVA series begins. It also features cameos by the OVA-original characters such as the High-Teen Numbers, setting up their appearance.
Manga Tie-in: "Cyborg 009 vs. Devilman: BREAKDOWN"
Edit
A manga adaptation, illustrated by Akihito Yoshitomi, has been serialized in the Kodansha web magazine Wednesday Sirius, with the first chapter released on October 14th. The October 26th issue of Monthly Shonen Sirius will include the preview of the first chapter.[9]
The manga's plot is entirely different to that of the OVA, taking place when both the Cyborg 009 and Devilman casts wind up brought to a seemingly post-apocalyptic world, where people have started to mutate due to having fused with demons.
The release schedule for the manga tie-in had each section of an Act released on the second and fourth Wednesdays of each month:
ACT 1, part 1: October 14, 2015
ACT 1, part 2: October 28, 2015
ACT 2, part 1: November 11, 2015
ACT 2, part 2: November 25, 2015
ACT 3, part 1: December 9, 2015
ACT 3, part 2: December 23, 2015
ACT 4, part 1:
ACT 4, part 2:
ACT 5, part 1:
ACT 5, part 2:
Act 1: Summons
Edit
After an in media res depiction of Devilman clashing against 009 and the other cyborgs in the ruins of Tokyo, the plot skips back to three days prior, to explain what had happened.
Akira Fudo and Ryo Asuka find themselves transported to the future by a descendant of Black Ghost, who recognizes Akira as "Lord Amon". They are told by the man that nine "man-made demons", the 00 cyborgs, were responsible for the destruction of the world.
Elsewhere, the 00 cyborgs have also found themselves in the future world, hearing of a "Devil" that had plagued it. A carefree 003 has opted to go swimming, as the team takes their time off. While swimming, she finds Miki Makimura trapped in a bubble and frees her, only for Miki to become confused at the circumstances as well. A panicking and nude Miki asks of the whereabouts of Akira.
Act 2: Offense and Defense
Edit
Akira and Ryo explore the wasteland of Tokyo, being lead by the man who is identified as "Lord Kokurei". A young woman named Mayumi tells them of the cyborgs, who she also believes to be demons responsible for the destruction.
The water has been depleted in the city, and the only water available is out in the west, an area guarded over by the cyborgs. Although Mayumi refers to Akira as "Amon", he rejects the identity, and states that while he fused with the devil, his heart is still human. Mayumi disrobes to reveal a pair of eyes having grown on her breasts, and informs him that the people of the city had also fused with demons and that those who failed to fuse had died.
The demon hybrids plead for Akira to defeat the "nine demon warriors". Around the same time in the western side of the city, the cyborgs and Dr. Gilmore talk with Miki, and Dr. Gilmore concludes that she is from a parallel world where the devil existed. It is revealed that Dr. Gilmore and the 00 cyborgs were called into the future by Dr. Rainuma, the grandson of a biologist by the same name in Miki's timeline.
Rainuma reveals that in this world, the cyborgs had fought against Devilman and that the evidence can be found at the bottom of a reservoir. 008 goes to investigate, as a man informs Dr. Rainuma that the demons are arriving.
The fully-human resistance side and the demon-fused humans start to fight, and Rainuma warns the cyborg team of "Amon". Miki, realizing that Akira and Ryo have arrived in the world as well, excitedly goes to rush out to see them, but is tranquilized by Rainuma, who states he had summoned her there as the "trump card".
As explosions rock the city, Akira transforms into Devilman. 008, having swam to the bottom of the reservoir, sees a ring of nine tombstones.
Act 3: Encounter
Edit
The barricade to the oasis is broken down, as the battles continue. Devilman is alerted to the presence of Dr. Rainuma, who is holding a knife to an unconscious Miki's throat.
As Devilman charges at the doctor, he's intercepted by 009 driving his knee into his face. Ryo witnesses 002 flying by and tries to warn Devilman, who's attacked by the other cyborg next. 004, 006, and 005 battle him next, as Ryo stands in shock of the enemies' power, but finds a gun.
003, witnessing Ryo with her super-sight, screams for 009 to run, but is gunned down as she runs towards him, with Ryo having meant to shoot 009. Akira has detransformed from Devilman, and Ryo yells for his assistance, but is ambushed by 007, having disguised himself as a demon.
A dam breaks courtesy of 008's abilities, leaving water to flood in and the demon-humans to rejoice. 009 checks up on 003 to make sure she isn't seriously injured, as Ryo carries Akira on his back.
Act 4: Clash
Edit
Joe sees footage of a battle from a battle in the past that results in 003's destruction at the hands of Devilman. Miki worries about Akira while bathing with Francoise as Miki comments that she has special feelings for Joe.
Akira has approached the compound alone after getting instructions from Mayumi (who also contacts the compound) and 009 goes to confront him to protect Francoise. Mayumi prevents Ryo from joining the battle while trying to get him to remember her real identity to no avail.
Devilman and 009 clash with their powers and feeling intertwining. Because of their strong feelings to protect the people they love, they do not stop. This causes both of them to become singularities that cause both of their separate universes to cause a breakdown and merge together as the circle around the world at light speeds.
Act 5: Fusion
Edit
Akira is woken up by Miki in what appears to their world. Miki possesses no memories of the events that took place unlike Akira and Ryo however. Ryo explains that although the world looks similar some aspects have changed.
At school, Akira encounters Joe who has become a student in this new reality. While Akira tries to throw a punch, 009 does not fight back after learning the truth from 001. It was in fact their battle that caused the apocalyptic future to take place.
Dr. Rainuma and Mayumi revealed to be demons who orchestrated the events and later cause others demons to fuse with humans to bring that future into fruition. Dr. Rainuma then reveals himself to be the Demon General Zann while Mayumi is revealed to be Psycho Jenny. Jenny laments that she has to wait for Ryo to regain his true identity. In the meantime, Devilman and the cyborgs fight against this demon invasion to prevent the apocalypse from coming to pass.
Video Game Tie-ins
Edit
Skins of 009 and Devilman are featured in the iOS/Android game BFB 2015-Soccer Training Game.[10]
Video Gallery
Edit
Out of the voice cast, Yuu Mizushima had previous experience with both franchises, having played a minor character named Red in episode 16 of the 1979 Cyborg 009 series, as well as Ryo Asuka in the 1987 Devilman "The Birth" OVA and its 1990 followup "The Demon Bird". Fumihiko Tachiki had also played Zanbarozu in the 2001 "Cyborg 009: The Cyborg Soldier" series, and Ghelmer in the "Demon Bird" Devilman OVA, while Mie Sonozaki had voiced Rina in the "Mutant Warriors" arc of Cyborg Soldier".
The only actor to reprise a character from a previous adaptation was Akira Ishida, who had voiced Apollo in the 2001 "Cyborg Soldier" series.
As the "Mythos" portion was made to source from the original manga, the Helena character was used for the OVA, as opposed to Artemis (who was developed for an unproduced "Mythos" arc in the 1979-1980 series and then officially appeared in the 2001 version).
Though the dub of the 2001 series used the more common "Apollo" name for the Mythos Cyborgs leader, the dub of the OVA uses the Greek name "Apollon", as used in the Japanese notation for the character.
While Seth and Atun's amalgam form is referred to as "Azazel" in outside materials such as the OST, the dub credits the being as "Devil Seth" for lack of a mentioned name.
The opening theme includes various shout-outs to the original early manga, such as depicting 009 on the operating table, battling the first Black Ghost robot sent to test him, the team fighting a missile-firing robotic dinosaur, and 007 halfway-transformed into a cat.
The choice of including new characters inspired by other Ishinomori works falls in line with the pattern set by other Actas and Bee Media productions that were either directed by Jun Kawagoe or Yasuhiro Imagawa. Mazinger Edition Z: The Impact by Imagawa had included references to various works by Go Nagai (including Demon Lord Dante, Violence Jack, etc.) while Kawagoe's Mazinkaiser SKL and Kotetsushin Jeeg operated on the same pattern. Long prior to the Actas productions, Imagawa's OVA of Mitsuteru Yokoyama's Giant Robo re-imagined the story heavily and included other Yokoyama characters in the plot.

Kawagoe and character designer Naoyuki Konno also employed this method with the production of the "Cyborg Soldier" adaptation, where newly-created characters were re-purposed from other Ishinomori works, or drawn to emulate his style.
This pattern is also seen with background characters in the OVA being references to both Ishinomori and Nagai's works. In particular, the unfortunate young woman possessed by Lilith in episode 1 was meant to be Honey Kisaragi (Cutey Honey). A keychain of Danbei Hayami from the Cutey Honey series can also be seen on Miki's backpack in episode 2.
One of Dr. Teufel's assistants bares a striking resemblance to Kozo Makimura, Miki Makimura's father, who was otherwise only mentioned briefly in episode 2.
External Links
Edit
For more on Devilman visit the Devilman Wiki (WARNING: Contains graphic adult content and disturbing imagery. Reader discretion is advised!)
References
Edit
Community content is available under
CC-BY-SA
unless otherwise noted.