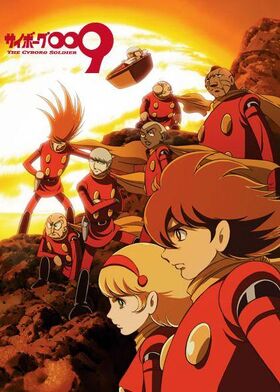 Cyborg 009: The Cyborg Soldier
is a 2001 anime series retelling of the original manga, updating the 1964-1967 stories serialized in
Weekly Shonen King
and
Weekly Shonen Magazine
, as well as including select stories from later runs of the series. It was directed by
Jun Kawagoe
, and premiered on
TV Tokyo
on October 13, 2001, running until September 29, 2002 in its main run.
This incarnation also has an OVA special consisting of episodes 49-51, which are not in continuity with the main series (1-48). These special episodes are a loose adaptation of Shotaro Ishinomori's final work before his death, Cyborg 009: Conclusion GOD'S WAR, and subtitled with "Prologue" (as there was initial intent to do a follow-up). These episodes ran in the weeks after the wrap-up of the main plot line, concluding on October 14, 2002.
On August 13, 2017 at Otakon, Discotek Media announced it had acquired the rights to the entire series for video release on SD Blu-ray and DVD, including the God's War OVAs.[1][2] The following day, the official Twitter for Discotek Media showed an image of the Cartoon Network master tapes of the show in their possession, meaning that the release is possibly a full uncut version of the dub.[3] Discotek Media then revealed during their Otakon 2018 panel that their release will be in a 1-disc SD Blu-ray set only with the uncut dub is in it, and its release will be the official premiere of the God's War finale outside Asia. Announced on April 17, 2019, the set will be released on June 25, 2019.
In creating this adaptation, the intent was to mainly adapt "Birth", "Assassins", "The Mythos Cyborgs" and "Underground Empire of Yomi", and have the four arcs make up the main composition of the series while adding a contemporary spin to the storyline. Yomi would also mark the end of the series, as Ishinomori had first intended.
To spread out the time between these four arcs and develop the characters further, newly-created stories were devised, along with loosely sourcing from stories in the Adventure King, Shojo Comic, and Weekly Shonen Sunday runs of the manga. The "Vietnam" arc would be re-purposed for a two-part mini-arc involving the fictional country of Muamba (along with providing a revised backstory for Cyborg 008), while the side-stories "A Phantom Dog" and "The Aurora Strategy" were also picked to be adapted.
As a way of keeping historical references in some backstories and as a way of creating a generation gap in the team, the creative team also introduced the concept of the "First Generation Cyborgs" and "Second Generation Cyborgs": 001-004 had actually been abducted and remodeled in the early 1960s, but were frozen for 40 years due to the technology not being up to par with what Black Ghost wanted. Some team members also underwent significant change to their personality as well (seen most significantly with Cyborgs 002 and 004).
With the collaboration of Kawagoe as director, as well as the series configuration writer Shinsuke Onishi and character designer Naoyuki Konno, various new guest characters were also devised for the series, drawing inspiration from other manga works by Shotaro Ishinomori. Other characters from the manga also underwent alteration, and the "Mutant Warriors" arc (episodes 39-42) was an anime-original creation loosely paying homage to some elements and characters from the "Immigration" and "People Drifting Between Space and Time" stories from the manga.
Characters
Edit
The 00 Cyborgs
Edit
Black Ghost
Edit
Cyborg Assassins
Edit
The Mythos Cyborgs
Edit
The Mutant Warriors
Edit
The Yomi Kingdom
Edit
Episode List
Edit
For episodes 24 through 26 of Season 2, please see the page on Conclusion GOD'S WAR: Prologue.
Production Staff
Edit
Director: Jun Kawagoe
Producer: Takayuki Nagasawa
Planning: Kenichi Ohashi, Kouki Toshiharu, Keisuke Iwata
Supervisor: Akira Onodera (for Ishimori Productions)
Series Configuration: Shinsuke Onishi
Character and Mecha Design: Naoyuki Konno
Art Director: Yusuke Takeda, Hiroshi Kato, Akihiro Hirasawa
Color Design: Sachiko Harada
Director of Photography: Ryosuke Ohmae
Editing: Jun Takuma
Sound Director: Miwa Iwanami
Music: Tetsuya Komuro, Akifumi Tada, Hayato Matsuo
Music Production: Avex Mode
Animation: Japan Vistec, Inc.
Ending Illustration: Naoyuki Konno (episodes 1-47)
Production Cooperation: Avex Mode, Hakuhodo
Production and Copyright: TV Tokyo, Japan Vistec, Cyborg 009 Production Committee
Japanese Voice Cast
Edit
009: Takahiro Sakurai, Takako Honda (009 as a child)
001: Kana Ueda
002: Showtaro Morikubo
003: Satsuki Yukino
004: Nobuo Tobita
005: Akio Ōtsuka
006: Chafurin
007: Chō (credited as Yūichi Nagashima)
008: Mitsuo Iwata
Dr. Gilmore: Mugihito, Nobuyuki Hiyama (younger, ep.38)
Skull: Norio Wakamoto
Additional VoicesEdit
Dr. Ryan: Jin Yamanoi
Dr. Kozumi: Junpei Takiguchi
0010+/-: Issei Futamata
Hilda: Akiko Koike
0011: Toru Okawa
0012: Sayuri Yamauchi
0013: Kentaro Ito
"Scar Nose" Yasu: Kosuke Okano
Priest: Takehiro Koyama
Scare: Tetsuo Goto
Machine Gun: Mitsuaki Hoshino
Roentgen: Koichi Nagano
Dr. Berg: Aruno Tahara
Zanburozu: Fumihiko Tachiki
Cynthia Findor: Tomoko Kawakami
Dr. Findor: Kazuaki Ito
Jean Arnoul: Nobutoshi Canna
Natalie: Sachiko Kojima
Sophie, Rosa: Yoko Somi
Unbaba: Shozo Iizuka
Kabore: Wataru Takagi
Mamado: Ryotaro Okiayu
Commander Farej: Minoru Inaba
Yang: Mitsuru Ogata
Gustav: Tetsuo Kanao
Ms. Tsuyama: Tomie Kataoka
Cathy: Kaori Saiki
Jimmy: Yoshiko Kamei
Dr. Ross: Masaru Ikeda
Dr. Keeley: Yasunori Masutani
Apollo: Akira Ishida
Artemis: Minami Takayama
Minotaur, Nereus, Dr. Kong, Nichol: Tomoya Kawai
Achilles: Hiroshi Yanaka
Hera, Pan: Yu Sugimoto
Poseidon, Atlas: Kiyoyuki Yanada
Dr. Gaia: Ikuya Sawaki
Pal, Kazu: Yuki Tokiwa
Lilo: Tamaki Oka
Mel: Shun Miyazato
Allo, Black Ghost Brain #3: Yuuto Uemura
Blue Beast: Masane Tsukayama
Sandra: Ayako Ito
Carl Eckermann: Shinichiro Miki
Dr. Eckermann: Takko Ishimori
Hachiro Marukaku: Nobuyuki Kobushi
Dr. Shishigashira: Daisuke Egawa
Dr. Mamushi: Sukekiyo Kameyama
Dr. Dracula: Tomohisa Aso
Dr. Alligator: Sosuke Komori
Dr. Herschel: Masakki Tsukada
Princess Ixquic: Sumi Shimamoto
Tadashi: Mayumi Asano
Mikio: Houko Kuwashima
Alice: Natsuki Yamashita
Joe's mother (as a child): Risa Suzuki
Dr. Brown: Kinryu Arimoto
Rina: Mie Sonozaki
Cain: Toshiyuki Morikawa
Mii: Romi Park
Phil: Mitsuki Saiga
Dr. Gamo Whisky: Seizo Kato, Soichiro Tanaka (younger, ep.38)
Erika Whisky: Hikari Yono
Dr. Isono: Naomi Kusumi
Shinichi Ibaraki: Isshin Chiba, Akiko Koike (child)
Masaru Oyamada: Nobuyuki Kobushi, Ayako Ito (child)
Mary Onodera: Takako Honda
Director Van Vogt: Unsho Ishizuka
Helen, Vena, Aphro, Dinah, Daphne: Yuki Masuda
Black Ghost Brain#1: Kenji Utsumi
Black Ghost Brain#2: Ryoko Kinomiya
Kazu's sister: Risa Shimizu
English Voice Cast
Edit
Note: Due to the dub's non-union status, only the actors for 001-009 and Gilmore were ever credited, and some actors were credited under pseudonyms at the time. Any further voice actor information comes from actors' resumes or other outside sources. This list is a work-in-progress.
For the sake of replicating the method of crediting used in the dub, some actors will be listed under aliases that they had mostly used at the time the dub was produced in, with their wiki pages reflecting the actual names.
Some character names as given in the dub may also differ from the original (see "International Adaptation" section for specifics).
Additional Voices (uncredited)Edit
Latin American Voice Cast
Edit
As the credits were Sony's English ones, the information for this dub and others comes from secondary sources such as resumes, ADR company information, and voice identification.
009: Irwin Daayán, Laura Torres (as a child)
001: Maru Guzmán
002: Ricardo Mendoza
003: Ilia Gil
004: Luis Alfonso Mendoza
005: Enrique Cervantes
006: Pedro D'Aguillon Jr.
007: Roberto Mendiola
008: Emmanuel Rivas
Professor Gilmore: Humberto Vélez
Scarl ("Fantasma Negro"): Humberto Solórzano
Additional VoicesEdit
Professor Kozumi: Esteban Siller
0010+/-: Salvador Delgado
0012: Magda Giner
0013, Nicholas: Eduardo Garza
Hilda: Ariadna Rivas
Jean-Paul Arnoul, Apollo, Shinichi Ibaraki: Luis Daniel Ramírez
Natalie, Lena: Circe Luna
Sophie, Hera: Belinda Martínez
Rosa, Dinah: Patricia Acevedo
Kabore: Martin Soto
Mamado: Rafael Rivera
Minotaur: Herman López
Achilles: Maynardo Zavala
Artemis, Sandra: Gaby Willer
Pal: Victor Ugarte
Dr. Eckermann: Alejandro Illescas
Princess Ixquic, Mary Onodera, Daphne, Kazu: Isabel Martiñon
Dr. Gamo Asimov: Miguel Ángel Ghigliazza
Erika Asimov: Sylvia Garcel
Cain: Alfredo Gabriel Basurto
Mai: Rocio Garcel
Phil: Benjamín Rivera
Claus Van Bogoot: José Luis Orozco
Helen: Carla Falcón
Vena: Laura Ayala
Aphro: Rossy Aguirre
Brazilian Portuguese Voice Cast
Edit
009: Christiano Torreão
001: Marcelo Garcia
002: Duda Espinoza
003: Sylvia Salustti
004: Hamilton Ricardo
005: Oziel Monteiro
006: Waldir Fiori
007: Sérgio Stern
008: Guilherme Briggs
Professor Gilmore: José Santa Cruz
Scarl ("Espectro"): Dário de Castro
Theme Music
Edit
"What's the Justice?" (Episodes 2-47)
Performed by GLOBE.
This song was also used as the ending theme for episode 1.
"Genesis of Next" by GLOBE (Episodes 2-26)
"Starting from Here" by GLOBE (Episodes 27-38)
"I Do" by Fayray (Episodes 39-47, "Yomi Group")
The English dub by Sony Pictures (as well as adaptations sourced from it) replaced the opening theme with a shortened instrumental from the series' score, while "Genesis of Next" was the only ending theme to be used, with a few of its verses cut for time constraints.
The TV airings of the English dub also replaced the early instance of "What's the Justice?" in episode 1's ending with "Genesis of Next", though the original theme is intact in the uncut DVD release.
International Adaptations
Edit
Unless otherwise specified, most countries that received the 2001 series used the materials from Sony Pictures' English dub due to them holding the international rights. The countries required to use the English adaptation as a base included France, Brazil, Saudi Arabia, and Mexico (along with other Spanish-language Latin American countries).
US English Dub (Sony Pictures/Point.360, 2003-2004)
Edit
This adaptation has the distinction of being the second anime television series of the franchise to be broadcast in the US, and the first to be dubbed into English. It was broadcast on Cartoon Network through 2003-2004, with the first season airing on Toonami. However the dub never managed to air in its entirety on the network, as although all the episodes had been dubbed, Toonami had only acquired the first 26 episodes for broadcast on their block.
The latter half of the show ran through 2004 in a late-night slot at 1:30am, with Cartoon Network abruptly cutting the series off at episode 47. However, the recap episode "The Yomi Group" and Episode 48 aired overseas in Australia and the UK, as did the English dub of the "God's War" OVA arc (as those three episodes were dubbed as part of the series package). The English dub of the "God's War" episodes and "The Yomi Group" remain difficult to find.
The dub was also edited for time and some content, and some episodes (such as 48) took significant liberties with the script. These content edits and script changes also cropped up in foreign dubs that based their scripts off of the English adaptation.
The early episodes initially ran in a less-edited format on Toonami, but were later censored for reruns after complaints, as well as Cartoon Network's Standards & Practices department realizing that certain objectionable language had slipped by for the TV Y-7 rating. The offending lines were either simply muted, or muted and later redubbed by Sony (ie: "The Assassin of Flash" originally having 0010- refer to himself as the 00 cyborgs' "Brother from Hell", which was initially muted in later airings before being redubbed with "Brother gone bad".). The editing increased for the later episodes, particularly the Yomi arc, which encountered various cuts to remove on-screen violence and death.
Adding to the frustrations of fans, this incarnation of the series has never received a full DVD release. Only 2 discs of the series (containing 4 episodes each) were released by Columbia TriStar in 2004 along with an 8-episode "uncut" bilingual release, while Sony Pictures Australia had released episodes 1-25 on DVD, covering up to the end of the "Mythos" arc. All bilingual DVD sets were controversial for their usage of "dubtitles" in the subtitle track, as well as poor video quality and incorrect opening/ending sequences used for some episodes.
In 2011, in response to fans hoping for the series to be released on Sony's streaming service Crackle, a Sony representative would state that they were legally unable to stream the series due to rights issues[4].
As of 2015, the license has reverted to Avex Mode and Ishimori Productions has "frozen" the rights for the anime along with that of the manga, due to "cultural differences" as explained by FUNimation representatives, making it unlikely for another company to re-license the series at this time.
Though it is unlikely the series will ever re-air on Cartoon Network due to the rights issues and the show doing poorly in ratings the first time around, it is said that Cartoon Network does keep copies of all their programming in their archives[5], leading to the possibility that the entire Cyborg 009 dub (unaired episodes included) lies there, unable to be released due to the extenuating circumstances but nevertheless saved in some format. It is uncertain if this may also be the case for Cartoon Network Australia, which had actually aired the episodes that the USA broadcaster hadn't.
This dub was produced at Point.360 Studios in Los Angeles, California, and was a non-union production, which lead to many actors being uncredited or having to use aliases.
Dub Name Changes
Edit
Within the adaptation, some characters and terminology were either mistranslated or localized to better appeal to a Western audience.
Dr. Gilmore had his professional title constantly switch between "Doctor" and "Professor", owing to both being alternate translations for "hakase". Other characters with the "hakase" title, such as Kozumi, Findor, and Ross, also had this inconsistency crop up.
Dr. Berg and Dr. Findor had their surnames translated literally, becoming "Beruku" and "Findoru".
Dr. Keeley was renamed "Dr. Kiley".
Nichol of the Psychic Assassins became "Nicholas", while Mii was renamed "Mai". Another female character on the team, whose name is rendered as either "Lina" or "Rina" by fans (but seeming to be Rina for reasons linked to the source material), was spelled as "Lena".
The Pu'Awak princess Dinah had her name alternate between "Dinah" and "Deena", possibly owing to pronunciation trouble from the voice actors.
The Black Ghost leader, who already had the Romanization of his name vary between "Skull" and "Skarle" in the original source, became "Scarl". He was also directly referred to as "Black Ghost" at times, which was further translated into other dubs' languages.
The villain of the Yomi arc had his name rendered as "Van Bogoot", rather than "Van Vogt". This is in part due to the season 2 DVD set using "Van Bogoot" as the Western notation for episode 44's title. The character was also given the first name of "Claus", while he never had a first name spoken in either the manga or anime (instead being referred to as "Ban Boguto-kaichou", or "Director Van Vogt").
Dr. Gamo Whisky had his surname altered to be "Asimov", as a possible shout-out to the science fiction author Isaac Asimov.
003's older brother is referred to as "Jean" and "Jean Arnoul" in credits and references to the manga and 2001 anime. In the dub, he is simply referred to as "Jean-Paul".
South Korean Airings (2005, 2006)
Edit
Due to Sony Pictures holding the international rights for Cyborg 009, their English dub was broadcast on Tooniverse through the year of 2005 with Korean subtitles. The series was poorly received due to the fact that it wasn't dubbed into Korean.
A year later, possibly due to the unpopularity of the subtitled version, the station Animax broadcast a Korean dub of the series. All 51 episodes were translated. However, this dub was never released on home video and no recordings of it can be found. Cyborg 009 has never been rebroadcast since, likely owing to the rights expiring and Ishimori Productions' "license freeze" situation.
It is unknown if the dub sourced from Sony Pictures' version, or if they were responsible for it in any way.
Pachinko/Pachislot Game Tie-Ins
Edit
This anime adaptation has spawned several pachinko and Pachislot games ever since its wrap-up. Each game utilizes footage from the series, as well as Naoyuki Konno's character designs.
CR Cyborg 009 (2002, Newgin)
Cyborg 009 (2004, ABILIT)
Cyborg 009 SP (2006, ABILIT)
CR Cyborg 009: To Unknown Acceleration (2009, Newgin)
Cyborg 009: From Here to Eternity (2010, ABILIT)
CR Cyborg 009: BONDS (2011, Newgin)
In addition to Konno's artwork, the 2009 and 2011 games by Newgin feature CGI cut-scenes with realistic character designs for the team members, Dr. Gilmore, and some of the villains. The Newgin games include a power-up for Skull known as "Great Skull", where he wears golden armor.
In addition to the CGI and Great Skull, the 2011 "BONDS" game contains animated cut-scenes adapting the "Middle East"/"Moses in the Desert" arc from the manga, with Moses and other characters depicted for the first time in Konno's style, and the anime cast reprising their roles. Unfortunately, the animated footage has never been released outside the pachinko game, which remains the only way to see that arc adapted in any format.
The 2014 Pachislot game by SANYO BUSSAN also features CGI redesigns, which include updated versions of the uniforms with armored portions and thigh belts.
Video Gallery
Edit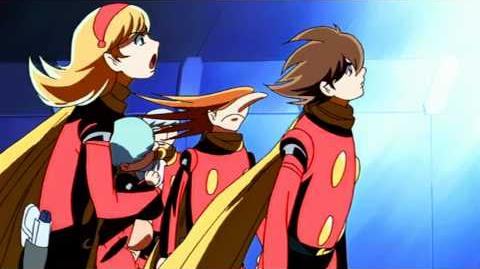 A year before its release, a visual development trailer depicting some preliminary concepts for the new show was screened at the Shotaro Ishinomori Memorial Museum. While the characters were still designed by Naoyuki Konno, there were a few differences in their looks (most notably, 008 still had his controversial blackface appearance from the manga). The trailer was narrated by Keiichi Noda, and showed various scenes adapted from "Birth", "Assassins", "Mythos", and "Yomi", along with a sequence of the team fighting Cyborg Men in a desert, animated to specifically showcase their abilities. This visual development trailer is available on a DVD for those who bought the entire collection of Kadokawa's "Shotaro Ishinomori Complete Works".

The trailer also included a redesigned Helena, as opposed to Artemis, among other differences seen with the Mythos characters.

The Region 2 DVD box set of episodes 27-48 provides alternative simple English titles for each episode, some which entirely differ from the translations of the actual title. This is why the English dub refers to episode 48 as "When You Wish Upon a Shooting Star..." instead of "From Here to Eternity." Even so, some episodes in Sony's dub had their English titles diverge from both the suggested translations and the official titles, with episode 40 having at least three official competing English titles between the translation, the DVD's alternate title, and Sony's adaptation.
This adaptation ran into some deadline problems during its entire 51-episode run. "Fossils of Evil" was originally rushed and aired as the nineteenth episode, due to "The Hero" being behind schedule. The episode "Yomi Group" was not in the original plans for the series, but wound up created when episodes 47 and 48 were running behind deadlines. As a result, the initial broadcast version of episode 47 had poor and unfinished animation in many parts, with the "Yomi Group" recap showing the more complete versions of the sequences.

Due to the recap pre-empting episode 48 and airing as part of the series order, this caused episodes 2 and 3 of the GOD'S WAR OVA to be cut and spliced together as one story, as TV Tokyo could not air more than the 51 episodes that were allotted for the order.
External Links
Edit
References
Edit