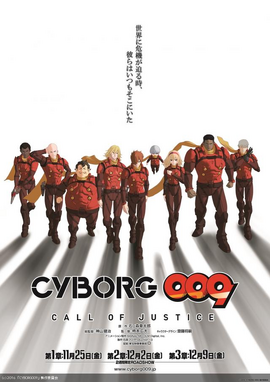 Cyborg 009: Call of Justice (サイボーグ ゼロゼロナイン コール オブ ジャスティス, Cyborg 009: Call of Justice?) is a 2016 3-D film by Ishimori Productions and TOHO Animation for the manga's 50th anniversary.[1] The CGI was made by Signal.MD, OLM Digital Inc. and Toneplus Animation Studios. This film consists of 3 chapters. [2]
Production
Edit
Kenji Kamiyama takes the role of chief director of the project while Koudai Kakimoto will be the film's director. Both have previously worked in 009 Re:Cyborg. Signal.MD, an anime studio subsidiary of I.G. Port will be animating the film while Ishimori Productions and Production I.G. will produce it.[1]
The Blessed, a group of people who possess superhuman powers and intellect, and have manipulated human history since ancient times. Their goals are unknown and they cast a dark shadow over the world.
Though few people believe in the Blessed's existence, one journalist named Lucy Davenport heads to Texas to contact a certain family, and she meets the cyborgs who escaped from the clutches of Black Ghost and have defended humanity from them and other threats. The cyborgs themselves have been freed from their duty of protecting humanity ever since the establishment of the UN Guardian troops, and they now live quiet lives of peace. However, Lucy's visit and the return of the Blessed draw Joe and the others once more unto the breach of a new battle.[1]
Chapter 1
Edit
TBA
Chapter 2
Edit
TBA
Chapter 3
Edit
TBA
Characters
Edit
00-Cyborgs
Edit
Netflix announced it had acquired the rights to stream all three films on their site worldwide on February 10th 2017.  The movie was divided into 12 episodes for distribution[3][4].
External Links
Edit
References
Edit